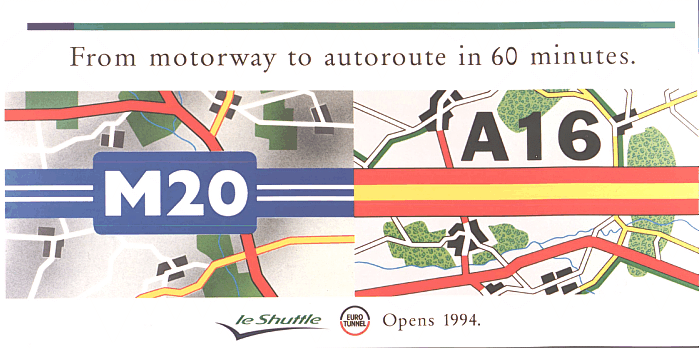 Reduction of Double-Deck Dwell time
a research paper by Ian Mulder
presented to Eurotunnel November 1994
Foreword
The paper was written for a readership which was familiar with certain terms which may be obscure to those who have only travelled on railways and never worked in them. Dwell time is the amount of time the train stops at the terminal between arrival and departure. A rake is a linked set of wagons - a train minus the locomotive. A chef-de-train (CdT) is the person in full charge of the train when it is at rest. He is also fully qualified as a driver.
The paper came about in this way. I was to work with a French colleague on a study to reduce dwell-time. We were good friends socially but somehow fell out over this study, so I completed the report and published on my own. Much of the input - the 60 proposals for improvement - resulted from meetings and brainstorming with English and French staff, including train crews and platform staff. Some of the ideas submitted were quite unworkable (in my view) but I put them in for completeness and indicated the flaws by adding pertinent "observations".
For the statistical parts of the paper I owe a lot to W Edwards Deming, who had died the year before, still teaching quality assurance through statistical control at the age of 93.
1 Introduction
1.1 Background
Revenue forecasts have been based on a dwell time, as defined in 1.4 below, of 22 minutes. However a study of platform activities undertaken in August 1994 concluded that it would take 46 minutes to unload and reload a full rake of 100 or more vehicles. See Section 2 for a comparisons of various estimates.
Dwell times in practice have usually been better than such estimates, which have had to take into account the time to load full shuttles, including several motor cycles. See Sections 3 and Appendices B and C for an analysis of dwell time statistics.
1.2 Purpose
Currently, ET's tourist service is confined to double-deck rakes, which are normally assigned a dwell time of 26 minutes. This time is often exceeded.
The present report is offered to support current efforts to reduce average dwell time and also reduce the excessive range of variation in dwell times. It collates 60 proposals for improvement from various sources. It should provide a useful starting point ready for further steps to be taken:
Addition of any more proposals
Identification of proposals deemed feasible
Planned implementation
Measurement of improvement
To assist evaluation, "observations" have been appended to some proposals, e.g. pointing out potential difficulties in implementing them.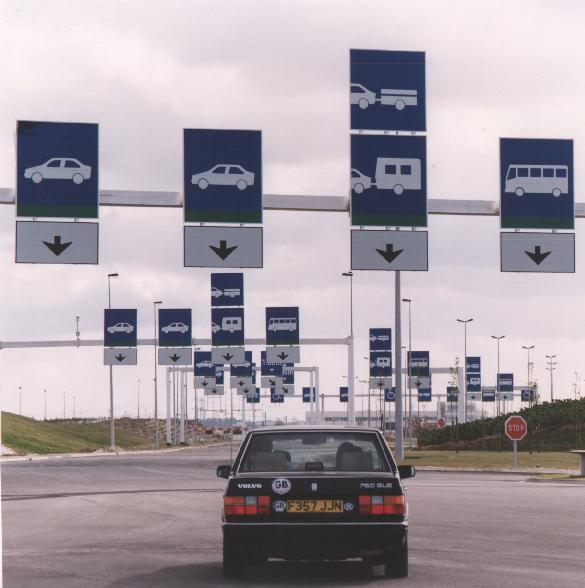 1.3 Method
Staff from various departments and at various levels were consulted, both individually and in a group meeting. The results of a previous study (Platform Activities Working Group) were taken into account. Statistics were compiled. Proposals were listed, with a superficial evaluation. These proposals are for convenience numbered in the main text and summarised in Appendix A.
1.4 Scope and definitions
1.4.1 Dwell time
In general terms, Dwell Time is that interval of time when a shuttle is stationary at a platform between arrival and departure.
Arrival occurs when a shuttle comes to a standstill at a platform after transit through the tunnel.
Departure occurs when the shuttle leaves the platform after the loading of passenger vehicles is complete.
Proposal 1: Departure should take place as soon as the shuttle is ready, not waiting for the timetabled departure. Readiness for departure here means that:
The chef de train has passed control to the driver
The locomotive is technically ready to depart
RCC has set a route
Signals are set to allow departure
Observation: Early departures help compensate for delays elsewhere. Also it is possible to get a true picture of the dwell time only when departure is not artificially delayed.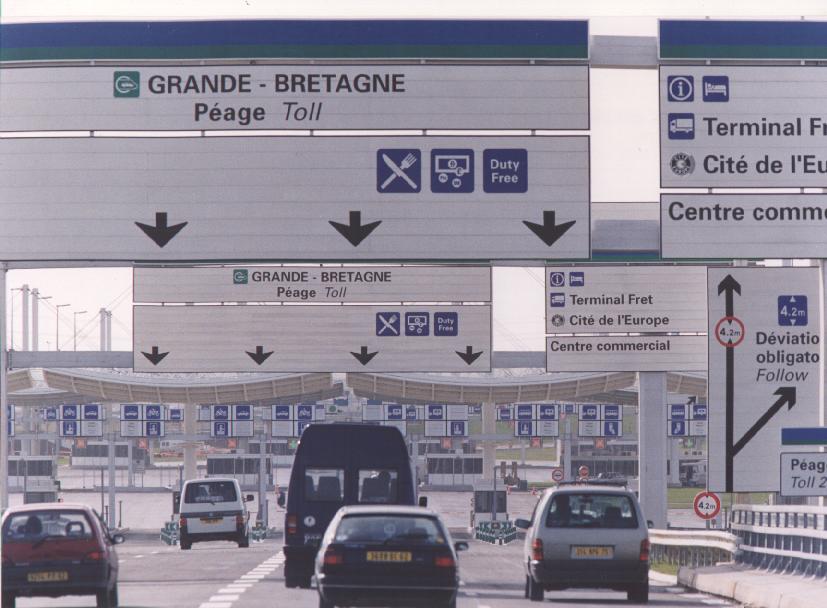 1.4.2 Cycle time
The original estimates were for a dwell time of 22 minutes. This is a very convenient figure, as it provides a total cycle time of 120 minutes, given the following assumptions:
| | |
| --- | --- |
| Segment | minutes |
| Transit time Folkestone-Calais | 34 |
| Dwell time Calais | 22 |
| Transit time Calais-Folkestone | 34 |
| Dwell time Folkestone | 22 |
| Total recovery time (=6.66%) | 8 |
| Total | 120 |
Note (1): The recovery time has to be shared amongst all segments of the cycle. We can make the initial assumption that transit time is under tighter statistical control than dwell time, and is less prone to variation around the standard 34 minutes. This assumption is supported by analysis - fewer variables - and practice - statistics over several months support it.
Note (2): The standard cycle time of 120 minutes may not be necessarily achievable during those night-time hours when parts of the running tunnels might be subject to possessions for engineering maintenance, with the effect of slowing down normal transit times.
One might make a notional allocation of the recovery time as follows:
| | |
| --- | --- |
| Segment | Recovery minutes |
| Transit time Folkestone-Calais | 1 |
| Dwell time Calais | 3 |
| Transit time Calais-Folkestone | 1 |
| Dwell time Folkestone | 3 |
| Total | 8 |
A typical range of variation in dwell times might be as represented in the following chart:
A fictitious series of Dwell Times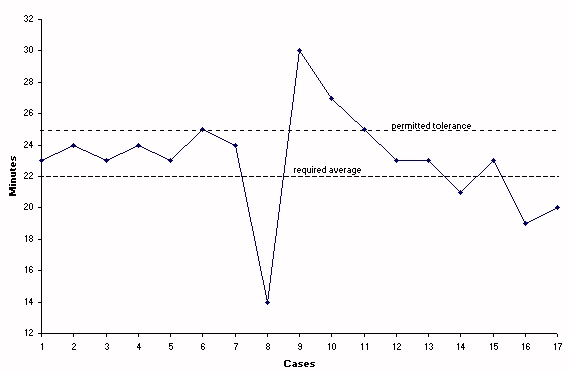 Here the dotted lines indicate the required standard dwell time and the three minute recovery time in excess of that.

If all segments of the total cycle vary randomly within certain limits, it will still be possible to stay within the cycle time of 120 minutes.

If some segments vary randomly

outside those limits, it may still be possible to stay within the cycle time of 120 minutes, as the following example shows.
| | | | | | | | | | | | | | | | | | | | |
| --- | --- | --- | --- | --- | --- | --- | --- | --- | --- | --- | --- | --- | --- | --- | --- | --- | --- | --- | --- |
| mission | 1 | 2 | 3 | 4 | 5 | 6 | 7 | 8 | 9 | 10 | 11 | 12 | 13 | 14 | 15 | 16 | 17 | avg | Std dev |
| Example dwell times Folkestone | 23 | 24 | 23 | 24 | 23 | 25 | 24 | 14 | 30 | 27 | 25 | 23 | 23 | 21 | 23 | 19 | 20 | 23.00 | 3.41 |
| Example dwell times Calais | 22 | 25 | 23 | 30 | 22 | 28 | 21 | 24 | 27 | 23 | 24 | 28 | 30 | 26 | 24 | 28 | 25 | 25.29 | 2.80 |
| Example transit time Calais - Folkestone | 35 | 35 | 34 | 35 | 36 | 34 | 36 | 34 | 35 | 33 | 35 | 36 | 36 | 34 | 35 | 35 | 36 | 34.94 | 0.90 |
| Example transit time Folkestone - Calais | 33 | 36 | 37 | 36 | 35 | 35 | 35 | 35 | 34 | 36 | 35 | 34 | 35 | 35 | 36 | 33 | 34 | 34.94 | 1.09 |
| required cycle time | 120 | 120 | 120 | 120 | 120 | 120 | 120 | 120 | 120 | 120 | 120 | 120 | 120 | 120 | 120 | 120 | 120 | - | - |
| actual cycle time | 113 | 120 | 117 | 125 | 116 | 122 | 116 | 107 | 126 | 119 | 119 | 121 | 124 | 116 | 118 | 115 | 115 | 118.18 | 4.72 |
Figures in red indicate times which drive the cycle time over the required limit. The figures in the table above have been plotted on the chart below. It will be seen that the cycle time exceeds the 120-minutes limit on 5 occasions out of 17. The transit times are mostly within a standard deviation of 1 and are using up almost all their allotted recovery time.
In this fictitious example the dwell times in Calais are on average higher and the dwell times in Folkestone have a higher standard deviation. To bring the cycle time down to its desired limit requires work on both the average and the standard deviation.
| | |
| --- | --- |
| minutes | |
cycles
1.4.3 Normal operations
Proposal 2: Standards for dwell time should be applied in all cases of "normal operation", which may include any of the following types of incident:
Observations: this list has been produced in ignorance of actual current procedures.
shuttle arrives late, or early. (Abnormal for operations as a whole, but should not increase dwell time).
vehicles carrying firearms (previously declared to security) or other equipment requiring to be segregated in loader wagons
passengers with disabilities (of any kind) whether travelling in front lower wagon or otherwise
motor-cycles, up to 6
full shuttle requiring 5 vehicles per wagon wherever they are short enough to fit (see below)
"awkward" or badly behaved passengers
slow-moving passenger vehicles (including occasional cars stalling for a short time)
vehicles hitting fire door protection barriers (until a solution has been implemented on all double-deck rakes)
staff inexperienced or undergoing training
staff tired (so long as they have not exceeded their shift hours) or recovering from effects of incidents (other than clinical shock), such as badly behaved customers.
litter and minor cleaning operations which can be performed by ET staff
call to Tunnel Services to unblock toilets, empty sewage tanks, fill water tanks or perform any other cleaning tasks
alarms falsely set off by headlights, camera flash, fingers etc (until any solution has been implemented on double-deck rakes)
passengers attempting to smoke or infringe other regulations
use of call buttons by passengers to communicate with Chef de Train
Proposal 3: ensure staff know what to do in all above incident circumstances and have adequate practice in handling them within standard dwell time.
Proposal 4: carry out research into the above types of incidents. Analyse their probable frequency. Write scenarios with time estimates.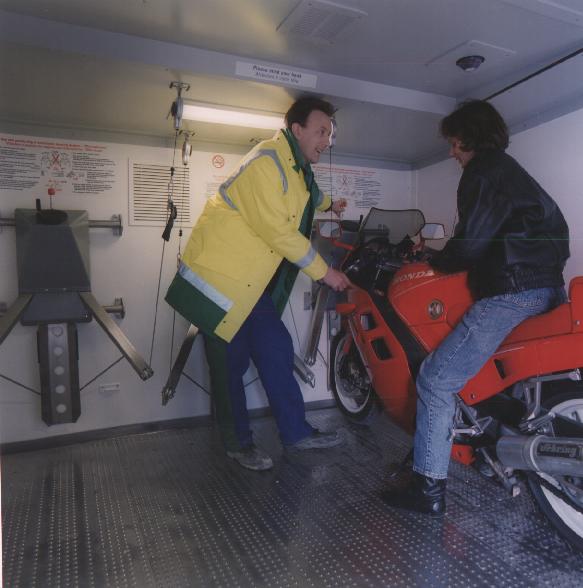 1.4.4 Abnormal operations
Proposal 5: any of the following list of circumstances might make it impossible to keep within standard dwell times
breakdown of customer vehicle on shuttle
collision between two or more vehicles on shuttle, involving the filling out of damage claims / safety reports
any other incident requiring presence of Security and / or Terminal Controller
sudden illness of a member of staff directly involved in unload / load process
administration of first aid to any passenger or staff member involved in the process
detection of animals, firearms (not previously declared to Security) or other forbidden items
any circumstances requiring a recirculation of passenger vehicles around the terminal after release from the reservoir
breakdown of communications equipment (e.g. (CR, SIR)
breakdown of shuttle equipment (e.g. alarms, doors, propping etc) - any form of "degraded mode"
more vehicles released from reservoir than it is possible to accommodate on the shuttle
vehicles over 1.85 metres attempting to enter shuttle
Proposal 6: to minimise delays caused by abnormal circumstances, consideration should be given to special procedures, training and periodic exercises
Proposal 7: eliminate abnormal circumstances totally, where this is within ET's control, through procedures, well-maintained equipment etc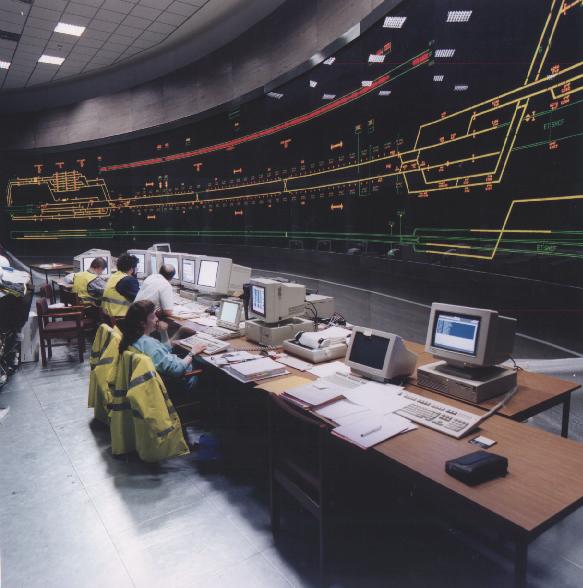 2. Dwell Time Estimates
2.1 As anticipated in March 1992
task
minutes
preparations on arrival
unload traffic
inspect and clean
load traffic
move motorcycle passengers
preparations for departure
1
5
2
11
1.5
1.5
Total
22.0
2.2 As visualised in August 1994
task
minutes
Handover driver to CdT
configure to unload (tech. + personnel)
unload (includes inspect and clean)
close unloader
CdT informs TCC "ready to load"
open reservoir
transfer to platform
crew member informs CdT "OK"
loading (inc motorcycles)
configure for departure
handover CdT driver
depart
1
3
12
1
0
1
3
1
20
3
1
0
Total
46
These figures were derived from a meeting of the platform activities co-ordination group and represented their understanding of the procedures then applicable and their experience of actual times required, projected on to a full rake.
2.3 As visualised on 29th November1994
task
m:s (min)
m:s(max)
driver puts loco into standby (or not)
Handover driver to CdT
automatic door-opening sequence
CdT authorises crew to unload
first vehicle leaves shuttle
time to last vehicle unloading*
close front loader, get ready to load
loading (inc motorcycles)*
check alarms off, handover CdT to driver
handover CdT driver
depart
0:00
0:00
1:30
0:15
0:15
5:00
1:00
15:00
0:30
1:00
0:00
1:00
0:00
1:30
0:15
0:15
10:00
1:00
30:00
0:30
1:00
0:00
Total
24:30
45:30
Additional estimates of unload and load time, depending on the number of vehicles, were given by participants at the meeting, as follows:
unload time
load time
vehicles
50
55
65
96
96
minutes
3
5
3
5
10
vehicles
21
30
30
60
82
96
minutes
8
8
11
12
13
33
The figures reflect practical experience. Note that they demonstrate an unacceptable range of variation, which is further confirmed in the next section.

3. Dwell times - actual
3.1 The statistics
Two illustrative examples have been taken: a set of 35 in August and a set of 86 in November. Charts were produced, as reproduced in Appendices B and C respectively.
The table below, derived from the same statistics, show what progress has been achieved over the intervening months.
The charts and table show several patterns superimposed on one another:
a general improvement in speed, despite the increased loads carried
an increase in the standard deviation overall, together with an increased range of time
a number of "peaks" - excessive dwell times outside normal variations, which show no correlation to the number of vehicles loaded
a lower level of variation after these peaks have been ignored, which is represented by an unchanged standard deviation of 3.8
August
November
Size of sample
Average dwell time
Average number of vehicles
lowest dwell time
highest dwell time
standard deviation
proportion > 30 minutes
proportion > 40 minutes
average exc. those > 30 minutes
st. dev exc. those > 30 minutes
35
32.7
19
17
56
7.9
54%
9%
26.25
3.8
86
27.7
39
11
84
10.8
17%
6%
24.25
3.8
3.2 Analysis
The evidence shown above indicates that an action plan to bring down dwell times to 22 minutes should include the following:
eliminate the "peaks" (dwell times > 30 minutes), i.e. investigate and remove their special causes
reduce the underlying average dwell time by several minutes more
reduce the standard deviation from 10.8 to 3
keep more detailed statistics, showing which sub-processes are responsible for excessive values and variations

4. Sub-processes
The following brief summary has been compiled from verbal information without consulting any procedure manuals. It was notable that different individuals had different views.
4.1 Stopping train > handover to CDT
The driver stops at the platform, applies brakes. Some say he should put the loco in standby mode (which takes a little time), others say this is not necessary. Driver communicates to CdT that he has stopped.
4.2 Prior to unloading
The CdT using his remote-operated automatic controls, opens fire doors, firms up the wagons' suspension, opens front and rear loader doors, lowers bridge plates. These operations are triggered in sequence but in practice some overlap takes place. When all operations are reported successfully completed. CdT instructs crew to commence unloading operations. Some members of crew will have already positioned themselves near the rear of the shuttle ready for unloading.
4.3 Unloading, cleaning, security check
Crew members carry out the following operations.
guide customers out of the front loader (this seems to consist mainly of waving goodbye)
(following the last vehicle) picking up litter
security checks including toilets and stairs.
4.2 Prior to loading
Close front loader doors.

4.5 Loading
4.5.1 Assembly of vehicles in the reservoir
Allocation for a given shuttle is in principle carries out automatically using the TTM computer system which controls the operations of barriers on the terminals. In practice the automatic controls are being to some extent overridden to overcome inadequacies in the system. In any event, vehicles are allocated and assembled in the reservoir prior to arrival of the shuttle. Up to 95 cars can be fitted into a double-deck rake with no problem, i.e. 4 to a wagon except the lower front wagon which will hold up to 3 vehicles with disabled passengers. Up to 6 motor-cycles can be allocated.
The following Road Traffic staff are deployed outside to control and assist tourist traffic:
1 at allocation zone, operating TTM
3 at reservoir
2 at platforms, helping to control flow, but switched to SIR and under the control temporarily of the CdT
1 at roundabout after Tolls
1 in PTB car park
4.5.2 Release from reservoir and drive to shuttle
Two streams are released at once, one for upper deck and one for lower deck, directing them to the platforms on either side of the shuttle. Sometimes the two streams of traffic get somewhat mixed, or one vehicle might pull over to one side to rejoin the stream later.
4.5.3 Flow control
Sometimes the traffic marshals on the platform may assist in holding up the vehicles if requested to do so, allowing the train crew inside the shuttle time to fill the wagons properly and give instructions to the drivers (see next section).
However it is currently the task of train crew (members "Foxtrot" and "Golf") to hold back the cars within the shuttle (two wagons below the one where the parking is being done).
If vehicles were allowed to pass down the shuttle without this control, several undesirable things may happen:
congestion in the shuttle resulting in a build-up of pollution from exhausts
drivers parking without being instructed, possible with too much space behind the vehicle in front
drivers parking possibly across wagons or over fire door protection barriers
drivers possibly leaving their vehicles, resulting in delay when staff ask them to move to correct position
4.5.4 Fitting within a wagon
Vehicles for safety reasons are to be parked 20cm between bumpers. Vehicles are to be packed four or five cars per wagon, depending on length. To do this right first time requires experience.
Crew use standard hand signals to indicate "come on", "slow down", "a little bit further", and "stop". This part of the operation therefore does not require the use of language.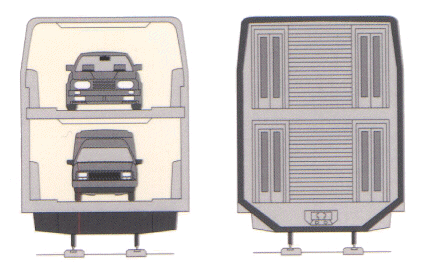 4.5.5 Safety instructions
There are several safety instructions which have to be communicated to drivers:
Wind down driver's window and keep it wound down throughout journey. Unless it is wound down, no further instructions can be given.
engage handbrake very firmly
engage first gear, or Park if vehicle has automatic transmission
switch off ignition
no smoking
switch off headlights, as these could set off fire alarms
no flash photography, as it could set off fire alarms
listen to any further safety announcements that may be given
In fact, there is not time to give all these instructions to each driver, as if this were done, the load time would extend to an hour or more.
Some of these instructions are already repeated on the dot matrix displays in several languages during the journey. Some of the instructions are repeated over the PA system.
The ones that the train crew concentrate on giving to each driver are the ones about windows, brakes and gears. The total message in fat is often abbreviated to "window down, handbrake on, first gear", said in English or French depending on the number plate of the vehicle--not always a reliable guide. The message is given rapidly and an unprepared driver may not understand, especially if it is not given in his own language.
Serious safety risks are however minimised by the member of the train crew carrying out a visual check that the driver has understood: either the gear stick and brake lever appear to be in the required position--not always easy to tell--or the driver carries out the appropriate manipulations under the watchful eye of the crew member.
Delays are caused when the driver is currently engaged in some other activity and is therefore not able to obey the instructions instantly. This possibility is minimised if the instructions are given at the exact moment of parking the vehicle. We shall return to this point later, when considering areas for improvement.
There is also a risk of delay if the driver does not understand the message or feels prompted to ask relevant--or irrelevant--question of the train crew member. The appropriate response of the crew member in such circumstances is to say something like, "If you'll excuse me, I'll return to deal with that when we have loaded all the vehicles." However, it is often difficult to recall which driver(s) asked the question, when later walking back from the rear of the rake. Again, we shall return to this point.
4.5.6 Close fire doors
It is normal practice to close the fire doors of each wagon as soon as that wagon has been loaded. Staff operate local switches for this purpose. The suspension is inflated to the setting for transit.
4.6 After loading
Crew members report to CdT "Loading Complete"
CdT triggers remote closing of bridge plates and rear loader doors
CdT checks all controls are OK
CdT hands over to driver
Departure
4.7 Other activities
4.7.1 Calling Tunnel Services (sub-contractor)
Main cleaning of the inside of wagons is done by tunnel Services during daily maintenance when the rake is out of service. But in certain circumstances Tunnel Services may be summoned for any of the following tasks, to be performed during dwell time:
clearing up mess
fixing toilets
replenishing water for toilets
emptying toilet tanks
4.7.2 Change of shift
A change of shift may take place during a normal dwell time. At this point fresh supplies of toilet paper and other such items may be taken on board.
4.7.3 Check supplies
It is envisaged that checks and replenishment of certain other supplies, such as the following, are not performed during normal dwell times. Certain other supplies on board the shuttle are definitely not performed during normal dwell times:
breathing apparatus
fire extinguishers
stretchers
transfer chairs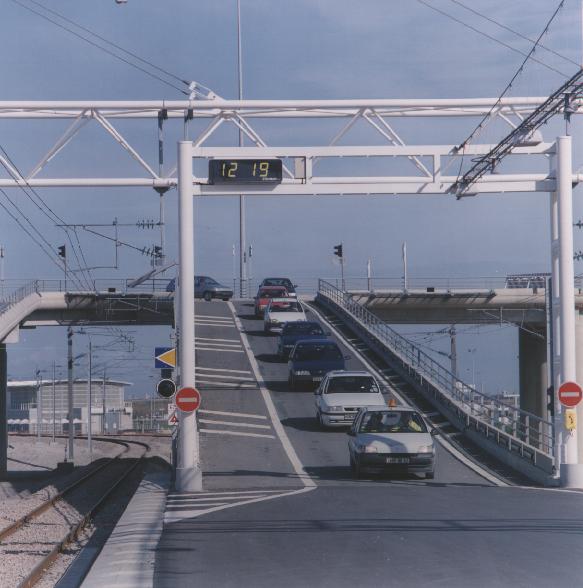 5. Improvement
5.1 General
Proposal 8: Formally recognise Dwell Times as a single process within ET operations. From this decision a number of others may flow:
a single responsibility for managing the process, covering both terminals and both UK and French crews
a single responsibility for managing improvements to the process
integrated procedures
reviews and audits of conformance to, and effectiveness of, procedures
fully co-ordinated training
a group set up in permanence to improve the process and ensure communication and understanding between all parties
permanent monitoring of process performance
Observations: Any or all of the suggestions listed may be appropriate in conjunction with organisational changes to clarify who is in charge moment to moment (in normal or degraded mode working).
Proposal 9: Ensure that improvements are well co-ordinated:
ground-level staff to be involved at all stages
all initiatives to be referred to a nominated management representative
progress reports to be shared amongst the departments involved, with everyone who needs to know being informed
Proposal 10: Progressively bring Dwell Time under "statistical control". This means:
standardisation of sub-processes - strictly following procedures which are adequate to the tasks
control of random elements - for example for example ensuring the process is not jeopardised by full shuttles, false triggering of alarms, saturated radon networks
establish standard times based on average dwell times actually achieved and awareness of range of normal variation
step-by-step improvements to the process, carefully monitored, designed (1) to reduce the average dwell time and (2) reduce the variability of dwell times
report results of analysis, both to management and staff involved in the process
foster an understanding by all concerned of the factors affecting the process, not just those affecting their own part in the process
Have permanent mechanisms whereby suggestions for improvement can be considered and tried out where appropriate under carefully controlled condition
Observations: Understanding of the whole process and one's own part in it is one of the best motivators for optimum performance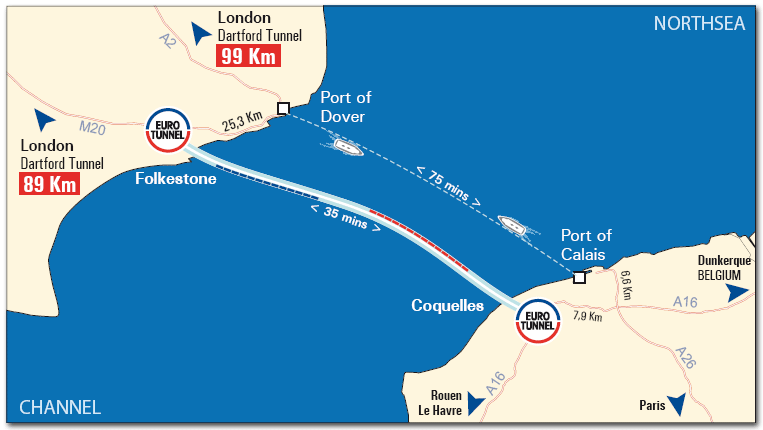 5.2 Technical

It has been reported that fire protection barriers can add five minutes to the unloading process and somewhat more than that to the loading process. This is because vehicles when heavily loaded have to proceed very slowly over the barriers and sometimes have to deviate on to the sidewalks in order to get past unscathed.

Proposal 11: replace Fire Door Protection Barriers by some other device which will not cause damage to passenger vehicles.

Observation: this is already a priority for ET as it is the cause of many claims for vehicle damage and (even worse) may be a discouragement to passengers to use Le Shuttle.

Proposal 12: prevent false triggering of Alarms. This might involve desensitising those which are set of by headlights or camera flash. Another way is to prevent fingers being stuck into the ceiling where they can set off alarms.

Proposal 13: get platform staff to ensure that vehicles switch off headlights before entry into the shuttle. Observation: a particular problem on winter evenings.

Proposal 14: review the sequence and timing of remote-control operations carried out by the Chef de Train. In particular, see if it is possible to start loading before the front loader doors have been closed following unload. Also, can fire doors be opened after shuttle has emerged from Tunnel but before it has come to rest at the platform? Observation: the safety impact of any changes will need to be carefully evaluated.

5.3 Training

Proposal 15: ensure that train crew members are able to assess both rapidly and accurately how many vehicles can fit into a wagon, by identifying them in the category "small" or "big". In this way they will be able to load the optimum number of vehicles in a wagon very quickly, and avoid the situation where a car stops in such a way as to prevent closing of the fire doors. This seriously slows down loading as it is necessary to move back not just that vehicle but others which may have drawn up close behind it.

If "small" is defined as "up to the size of a Ford Sierra" (5-door version) then a wagon can accommodate 5 small cars, or other combinations according to the following table:
SMALL
B
I
G

0
1
2
3
4
5
0
¤
¤
1
¤
2
¤
3
¤
¤
4
¤
Any given stream of cars can be divided quickly with a little practice.
For example, if the cars are proceeding towards the left, crew members Foxtrot or Golf can split them into wagon-loads as marked by commas in the following example:
<- S B B B, S S S S S, B S S S, B B S B, S B S B, B S B S S,S S S S, B B B B, S B S S
In practice, the rule is simple. If the next group of four cars contains a big car, that is as much as you can get in a wagon. If all four are small, and the one following is also small, then you can take 5 in a wagon. It is possible that some combinations of big vehicles could not fit 4 to a wagon (such as four hearses or Rolls-Royces) but such combinations are unlikely. Also note that vehicles with low trailers are not permitted on double-deck rakes.
If cars come in a random stream of big and small it then becomes a game of mental dexterity for Foxtrot or Golf to send exactly one wagon's worth of vehicles to Delta or Echo. The rules of the game can be practised anywhere, but the crucial skill is being able to categorise any vehicle at a glance into long or short.
Note: see table of sample car lengths in Appendix B.
Proposal 16: it would also be possible to assess cars in 3 sizes - small, medium and large.
Observations: this would be less easy for staff, and is noted merely for possible future consideration.
Proposal 17: combine training with research in defining a new sequence of operations in the "wagon-filling" sub-process. The sub-process consists of parking, giving safety instructions and closing fire doors.
Proposal 18: make a video tape showing the required communications (driver / chef de train / TCC / platform staff / train crew / passengers) with instructive scenarois showing how various incidents and difficult situations can be handled. Even producing such a tape can be a useful tool in research, training, staff participation. Showing the video can be useful in training, briefing and further research.

5.4 Motivation
Proposal 19: Solve the conflict felt by staff (particularly train crew) between opposing demands:
speed up the dwell time process
deliver maximum customer care
Additionally there may be a conflict between:
written procedures
verbal briefings
day-to-day practical experience
Staff see themselves as customer service agents who are there to make the customer happy and project a certain image of travel by Eurotunnel. They find it sometimes hard to equate this with certain compromises required in practice, such as having to give safety instructions verbally in a few seconds.
Proposal 20: take great care when introducing changes to load and unload procedures, not to introduce increased stresses and uncertainties amongst the staff involved.Ensure that changes are thoroughly planned, co-ordinated across departments, and that staff are well-briefed. Collect feedback and study results before committing to permanent change.
Proposal 21: make clear to staff that management's interest is sustained and long-term; also that it is not one-sided (e.g. pushing speed at the expense of staff and customer well-being).
Proposal 22: Train crew should adapt a technique used by airline flight attendants when passengers require attention at inconvenient times, such as during loading. Any passenger who asks a question when safety instructions are given, or needs further assistance, should be told that the member of train crew will return as soon as loading is complete. The member of staff will then place a small sticker on the car roof as a marker. Observations: at present, staff often promise to return to answer passengers' questions, but on their return it is difficult to remember the vehicle or passenger concerned.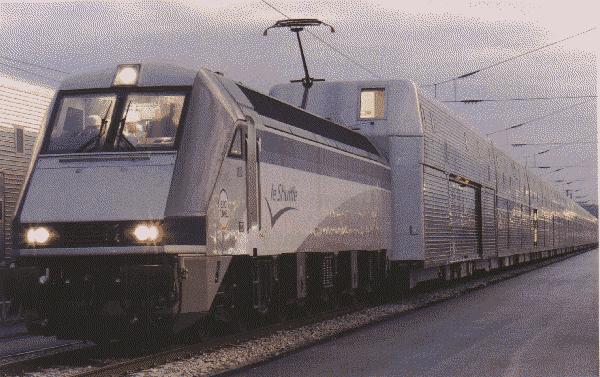 5.5 Procedural
5.5.1 General
Proposal 23: ensure that there are sufficient up-to-date procedures for the guidance of all staff involved in dwell process. The procedures need to be consistent with one another and with the practical realities.
Proposal 24: ensure that French and British crews are working to the same sets of rules, and the same interpretations of them, where there is scope for interpretation.
Proposal 25: emphasise that passengers are in no circumstances to leave their vehicles whilst on the platform for loading or unloading. The normal reason for this practice is photography. They wish to show their car and its occupants against a background of Le Shuttle locomotive. However this has a disruptive effect slowing down load r unload. Observations: at one Train Crew Quality Council meeting reluctance was expressed to stop passengers doing this as it was felt that marketing considerations demanded it, especially as some passengers were from the media. However, there are safety problems as well.
5.5.2 Late Arrivals
Proposal 26: the closing of vehicle allocations should be timed so as to valid two possibilities:
vehicles showing up after the loader doors have been closed
vehicles attempting to board when the loading has been based on a "loose-loading" estimate of vehicles (i.e. the estimate was less than 95, permitting 4 per wagon, but late arrivals push the total to over 95)
Observation: how to achieve this needs to be studied.
Proposal 27: allocation should be started and finished tow minutes earlier than at present.
Observation: the intention of this proposal was to speed up the start of loading and to prevent late arrivals. The effect of the proposal could be to add 2 minutes to the motorway-autoroute time.
5.5.3 Fitting vehicles to wagons
Proposal 28: divide vehicles into wagon loads whilst parked in the reservoir. Observations: there is no guarantee that the vehicles will actually load in the same order. In any case you have to find a way of showing the division into wagon-loads to the staff at platform or on shuttle.
Proposal 29: segregate long and short vehicles into separate lanes at reservoir / allocation. Observations: this would be labour-intensive and error-prone. No guarantee that the vehicles will be in those lanes by the time they reach the shuttle. However, it might facilitate speedy loading of the short ones five to a wagon.
Proposal 30: separate the two streams of traffic for upper and lower decks by road cones or flexible posts fixed to the ground on approach roads and overbridges. Observations: if you take the flexibility out, one vehicle that stops en route will hold up the entire flow and delay the loading process.
Proposal 31: lanes in reservoirs are divided laterally in wagon loads, with white lines, enabling marshals to measure wagon loads. Observation: to make this work, the vehicles would have to be parked at 20cm intervals which is labour-intensive and an inconvenience to the customer.
Proposal 32: separate wagon load markings in reservoirs which have areas cross-hatched in yellow, indicating "Don't park on this part"/ Thus drivers would automatically put themselves into wagon-loads when arriving at the reservoir. Observations: but they would still not park close enough to each other without laborious intervention of road marshals.
Proposal 33: identify wagon-loads by means of stickers fixed to the front vehicle of each wagon-load, colour-coded to indicate 4-vehicle or 5-vehicle group. Observations: as already stated, the groups might break en route from the reservoir to the platform.
Proposal 34: by some means, tell the driver which wagon to go to. Observations: Unworkable. Safety risks. Contrary to the whole principle of firm control by ET staff.
Proposal 35: use number of vehicles counted at allocation or reservoir to determine the load plan. For example, if there are no more than 95 vehicles, they can be loaded 4 to a wagon throughout, making the load task quick and easy. Observations: this information needs to be available to the CdT at the start of the load process, so that any necessity for 5 vehicles to a wagon can be put into effect from the start. Under fully automatic TTM operation, allocation and loading are not overlapped. However, under manual over-ride, it is possible to allocate late-comers whilst loading is in process. In practice, therefore, loading 5 to a wagon needs to be put in place when there is something less than 95 vehicles at start of loading.
Proposal 36: pack vehicles in 5 to a wagon whenever this is possible, even if the shuttle will not be full. This will initially take more time, but the staff will obtain expertise more quickly and when there are full shuttles they will be experienced enough to deal with them. Observations: this will make loading a little slower at first. See further observations under Training above. Also this proposal is contradictory to the one which precedes it.
Proposal 37: set a limit on the mummer of vehicles which can be loaded on a double-deck rake. Progressively increase the limit as experience of loading increases. Observations: at the moment the limit is 95, which means there is no pressure to load 5 to a wagon, but for commercial reasons the limit will need to be raised. However as the theoretical limit of 118 (including 3 disabled) is approached, the mix and sequence of vehicles becomes more significant, involving the risk that some will not fit on, or that time will be wasted trying to get the best fit.
5.5.4 Monitoring
Proposal 38: monitoring of the process should be built-in and permanent. For example Chef de Train should keep timings of all dwell times and component parts, in an agreed format, which should be collated for regular analysis and any necessary corrective action.
5.5.5 Motor-cycles
Proposal 39: reservoirs should check the number of motor-cycles allocated to a shuttle. If up to 3, they should be loaded last, as train crew consider it quicker to stow them in the rear loader. If more than 3 and up to 6, load 3 last and the remainder first. Observations: check if it is really quicker to load them in rear - this has been disputed.
Proposal 40: Platform staff rather than train crew to load motor-cycles in rear loader.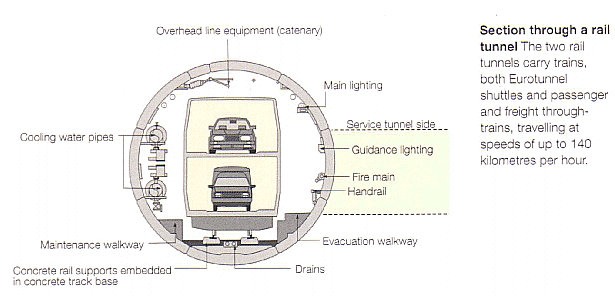 5.6 Organisation
Proposal 41: increase the number of staff carrying out the duties of parking passenger vehicles, giving safety instructions and closing fire doors. Many members of train crew feel that this is the single most effective way to reduce dwell time. However, not all crew leaders agree. There seems little doubt, however, that when there are full shuttles, defined as more than 95 cars, plus motor-cycles, more staff will speed the process. Note that the fifth member of train crew acting as a relief already provides part of the extra resource required.
Observations: the following proposal suggests one way of obtaining this extra resource.
Proposal 42: increase role of Terminals in the load process. Put traffic marshals at present posted on platform within the shuttle and let them take over responsibilities of Foxtrot and Golf, i.e. holding back traffic two wagons away from where Delta and Echo and parking them. Observations: this allows two members of train crew to perform the operations of parking, safety instructions and fire-door closing. Traffic marshals leave the shuttle before it departs.
Proposal 43: control the flow of cars into the wagons from the loader doors rather than as in Proposal 42. Observations: This has the advantage of reducing queuing within the wagons and consequent exhaust pollution. It has the disadvantage that the marshal at the loader door cannot easily see what is happening in the wagon being parked. In the case of the upper deck he cannot see at all. See proposal 60 for special radios. To ensure a speedier process, a wagon load must be released into the shuttle a few seconds before the "parker" is ready for them. If the vehicles are sent too early this can interfere with the parking process as there would be no one to control the flow in the wagon. As the driving time from doors to wagon becomes steadily less as the rake fills, it is difficult to calculate when to release a wagon-load of cars.
Proposal 44: parking is undertaken by traffic marshals, leaving train crew free to give safety instructions, welcome their passengers on board and close fire doors. Observations: if combined with the previous proposal, this has the advantage that all manoeuvring is done by teams under the same management, i.e. Road Traffic. It releases train crew for customer care duties and technical tasks, e.g. closing fire doors. However, it throws into question the role of the Chef de Train in controlling the load process. This would require further study.
Proposal 45: since differences do exist over the two sites - Folkestone and Calais - and with the two nationalities of train crew, exploit this fact to run limited trials of proposed improvements. When these have been demonstrated effective, carefully introduce them to both sides. Consistent monitoring and the keeping of impartial records will help ensure that prejudice and antagonism between the two sides are minimised.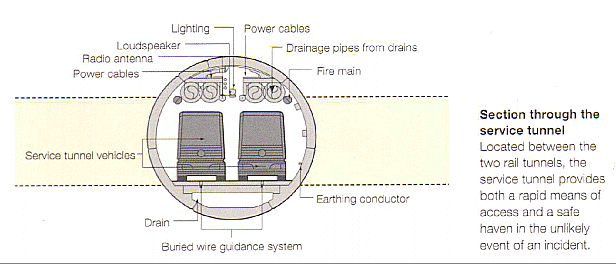 5.7 Communications
5.7.1 Communicating safety requirements to passengers
Probably the most time-consuming aspect of the whole unload/load process is giving safety instructions to each driver.
Some of these instructions must be given at the time the driver parks his vehicle where guided by the member of train crew. They can be given earlier but there is a requirement to check at the time of parking that they have in fact been carried out. They cannot be given later.
Many proposals have been received of reinforcing the safety instructions in such a way as to reduce the communication burden on Delta and Echo.
It must be stressed that none of the proposals below remove responsibility from Train Crew members to ensure that the passenger vehicle driver has understood and obeyed.
Proposal 46: give safety instructions to pre-paid passengers as part of their ticket and information package. Observations: should be a series of pictograms, can't take up too much space as there is lots of other information to give as well. Not very major impact as driver may not read it or remember it.
Proposal 47: Give safety instructions to turn-up-and-go passengers as part of a ticket and information package given out at tolls. For example, there are plans for a comprehensive leaflet to be given out at tolls, covering several topics following requests from several Directorates and the CO. Observations: as for previous proposal.
Proposal 48: show a video in the Passenger Terminal Buildings giving information as to how the system works including the safety instructions (either as pictograms or a film of someone putting on handbrake etc) Observations: this would depend on other plans for use of videos. Also it would not reach all drivers.
Proposal 49: display safety information at reservoirs, using dot matrix, video etc. Observations: this depends on the technology being available for this purpose. In particular, the safety instructions, for maximum impact, need to be imparted pictorially rather than through text.
Proposal 50: give out a leaflet dedicated to communicating safety information to each driver in reservoir. Observations: this probably has maximum impact and the greatest likelihood of being read and remembered by drivers.
Proposal 51: give out safety information over PA in reservoir. Observations: there are limitations over use of PA in Folkestone, because of agreements with local residents about noise pollution. Impact is in any case likely to be low. PA announcements should generally be reserved for "news" - e.g. latest situation when there are delays, rather than routine material.
Proposal 52: give out safety information over PA in shuttle. Observations: to some extent this is done already. But the passenger does not hear it until after he has parked and so it does not serve the purpose of reducing the time of loading. NB dot matrix displays in shuttle also give the information, but for the same reason they do not speed up the parking process. They may however improve safety by reminding drivers who did not understand the information when they parked.
Proposal 53: safety information posters in shuttle. Observations: this proposal has merit. The posters could be largely independent of text, consisting of a set of pictograms giving all the instructions as well as indicating the reasons for them: no smoking - risk of fire; no flash photography - risk of fire alarms - delay to shuttle. In case of dispute or poor communication - language problem etc - Delta or Echo could refer the driver's attention, using gestures, to the nearest poster.
Further observations: passengers will have plenty of time to read safety instructions her and the instructions will be able to mention aspects which though important may not be stressed elsewhere, such as "keep away from the space between two vehicles", "take special care of small children and the weak, disabled or elderly - the cars might appear stationary but the train is moving fast. If emergency brakes are applied such passengers are at extra risk of injury."
Proposal 54: Train crew propose that a card is produced with pictorial safety instructions, in a form which permits the driver to hang it on his rear-view mirror. The back of this card would be available for commercial advertising. Observations: this might solve the problem of drivers being reluctant to open their windows in cold weather: if they see that a gift is being offered, they are more likely to open them, and hence to listen to the verbal instructions! However, drivers will not have the opportunity to read it until after the member of train crew has checked that they have obeyed the main instructions. It is therefore unlikely to speed up the giving of safety instructions.
5.7.2 Communications between staff
A previous report, resulting from a study by the Platform Co-ordination Working Group, listed a number of problems of communication in this area, which may be summarised as:
technical: CR has poor voice quality, messages cut off, saturation of network. SIR subject to interference between one shuttle and another whilst on platform

language
organisation - cascading of information
formalisation of messages
Proposal 55: reduce dependence on radio communications. After CdT has informed TCC that the shuttle is "ready to load", the vehicles are released from reservoir with no further radio communications until the message to CdT: "No more vehicles to load".
Proposal 56: prescribe the form of all routine radio messages (including those for a range of incidents and degraded modes) during loading / unloading to achieve the following objectives:
language independence
brevity

clarity
Observations: requires interface between Train Crew and Terminals to produce agreed codes and procedures. Requires to be consistent for both UK and French terminals, UK and French crews.
Proposal 57: do not call TCC to request release of vehicles from reservoir. TCC should release them automatically, according to an agreed schedule, for example start release at shuttle arrival. The time taken to carry out unloading will thus be overlapped with the time to raise barriers and send the streams of vehicles to upper and lower decks. Observations: the procedure must allow for the possibility of some exceptional condition where CdT has time to inform TCC that there is a problem preventing the automatic readiness for loading.
Proposal 58: TCC routinely to supply CdT with certain loading details prior to the start of loading:
total number of cars
number of vehicles with disabled passengers
number of motor-
cycles

This information will be used to allow the CdT to make decisions for optimisation of the loading process.

Note that the contact between terminal and crew if only standardised within each terminal and within each type of crew will end up having four variants, as follows:
| | |
| --- | --- |
| Crew | Terminal |
| UK | UK |
| UK | FR |
| FR | UK |
| FR | FR |
Proposal 59: regular training/tabletop exercises to ensure that all crews and terminals can undertake efficient communications and decision-making in routine and slightly exceptional circumstances, using items from incident lists given in 1.4 above as the basis of exercises.
Proposal 60: equip those involved in loading process with additional radio handsets on a special new network - neither SIR not CR. Observations: would this mean staff carrying two handsets? The rules for use of different networks would need to be clear and simple.
6. Conclusions
There are at present many different opinions as to how the dwell time can be reduced. There is a general divide between Train Crew and terminals, but even within these departments there are many different views. For example some crew leaders think that 22 minutes can be achieved without extra staff involved in the loading sub-process. Others - particularly the train crew responsible for the work - believe that allocation of extra resource is the single most effective way to improve the speed of loading.
A number of general points have emerged very clearly from the study:
the actual times recorded show a wide range of variation indicating that there are a number of random or uncontrolled elements in the process. The target cannot be achieved until they are brought somehow under controlled and standardised.
variations in practice and in understanding of the procedures, must be reduced to a common understanding, respected by UK and French staff in train crews Terminals and RCC.
Standardisation should however be preceded by a period of controlled trials, in which the most promising proposals are tried out, the results measured, and the views of all parties taken into account
In order to progress to achievement of the required standard, and make systematic improvements, actual performance will have to be closely monitored. this could be done by independent sampling, but possibly the best way is for record-keeping by the staff to be incorporated into the process itself.
The dwell process is an integral part f the ET transport system, hence will be with us for the next 50 years. The solutions we find now should not be short-term makeshilfts but stepping-stones giving ever-increased stability and efficiency to the process.
Appendix A Index of Proposals
Shuttles should depart when ready, not wait for timetable

Set standards for dwell-time under "normal operation"

Familiarise staff with handling "normal" incidents

Research the probability and effect of "normal" incidents

Define "abnormal" circumstances

"Abnormal" procedures, training and exercises

Elimination of "abnormal" circumstances

Treat dwell time as an integral process

Co-ordinate improvement efforts

Bring dwell time under statistical control
Technical
Replace fire door protection barriers

Prevent false triggering of alarms

Platform staff to request headlights off.

Timing of automatic controls triggered by the Chef de Train
Training
Categorise cars into small and big for loading purposes, and train staff in recognition

Categorise cars into three sizes for loading purposes (future)

Experiment with speedier "wagon-filling" routines

Video tape of dwell process, for training
Motivation
Clarify priorities for staff

Careful introduction of changes to process

Communicate management's sustained concern

Mark vehicles where crew will return to answer questions
Procedures
Adequate and up-to-date procedures for dwell process

Same set of rules for UK and French crews

Passengers not in vehicles strictly forbidden on platforms

Ensure timely closing of vehicle allocate

Earlier start and finish of tourist allocation

Identify wagon-loads in reservoir

Segregation of long and short vehicles

Separate traffic flows proceeding to upper and lower decks

Markings in reservoirs to identify maximum length of wagon-load

"No parking" spaces between wagon-lengths in reservoir

Identify front car of wagon with colour-coded sticker

Driver told which wagon to park in

Determine load plan from number of vehicles allocated

Routine packing of 5 vehicles per wagon

Progressively increase vehicles per wagon

Permanent monitoring of dwell process

Stow motor-cycles in rear loader if possible

Platform staff to load motor-cycles in rear loader

Extra staff for parking, safety instructions and closure of loader doors
Organisation
Increase role of Terminals in the load process

Control loading flow from loader doors

Traffic marshals to park vehicles in shuttle

Exploit variation across sites and crew to exploit best practice
Communication to passengers
Safety instructions as part of pre-paid ticket information pack

Safety instructions issued at tolls as part of information pack

Information video at PTBs including safety instructions

Safety information displayed visually in reservoir

Safety leaflet handed out at reservoir

Safety information over PA in reservoir

Safety information over PA in shuttle

Safety instruction posters in shuttle

Safety instructions to hang on rear-view mirror
Communication between staff
Minimise dependence on radio communications during load / unload

codes for radio communications between crew and terminal

Start loading without message to TCC

TCC to supply CdT with details of cars, motor-cycles and disabled

Regular table-top exercises in routine communications

New radios and network for communications re loading
Appendix B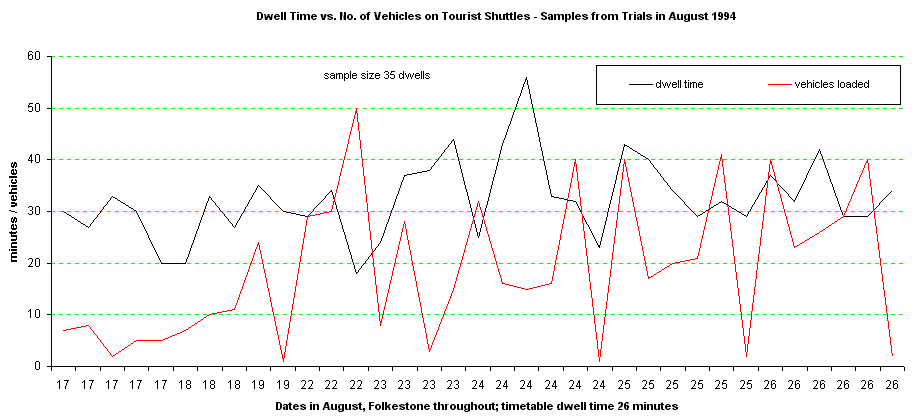 Dwell time range 17-56 minutes (average 32.7) ; load range 1-51 vehicles (average 19)