1. Introduction
1.1. Scope
This document covers tourist shuttle transportation only. It therefore excludes HGV shuttles, use by national railways, ancillary business or non-tourist passengers.
Although there may be a number of differences in the two Terminals, as well as different attitudes and legal requirements by official bodies in the two countries, the text of this document should be read as applying to the whole of Eurotunnel and specifically both terminals and Passenger Terminal Buildings unless otherwise stated.
1.2. Purpose
The purpose of this document is to provide:
a review of Eurotunnel's achievement to date in providing for disabled passengers
a summary of actions at present in progress
some suggested further actions
It does not try to give a history of the topic or a full description of everything that has been put in place. Its purpose is not to justify Eurotunnel's position, but provide a practical guide in assessing and improving that position.
1.3. Who addressed to
The report is designed for use within Eurotunnel, with a limited distribution to certain managers on a need-to-know basis.
1.4. Future updates
The present document is a first draft. It will benefit from comments, both to correct inadvertent errors and also to progress the various actions currently in progress and planned.
2. Principles and Guidelines
2.1. Principles
Volume G of the Safety Arrangements (Revision 1, 31/1/94) expresses the principles which form the basis of Eurotunnel's application to all relevant authorities for licences to transport disabled passengers.
Volume G also provides the basic principles for relevant Eurotunnel procedures, training, day-to-day operations and emergency operations. Volume G will also need to be periodically updated in the light of experience.
A Code of Practice (3rd Draft, 1/6/94) has also been drawn up, though at the time of writing it remains in draft form. Its contents are derived from Volume G.
ET's UK Public Affairs Department has produced a short leaflet intended for public use as part of a series of information papers on various topics: Eurotunnel and the Disabled (Miscellaneous M11, October 1993). Only part of this is on the topic of disabled passengers; the other half summarises ET's policy on employing disabled persons.
There is an item on ET's computer network, within "Commercial Standard Responses" of the "News and Information service" on the Disabled. It was last updated on 27/6/94, but steps are currently being taken urgently to update it. The intention of such items is to provide guidance to ET staff who may receive enquiries from the public. Whilst the information currently given is sufficient for general inquiries, it does not provide the detailed information needed for the guidance of disabled passengers planning to travel, or considering whether to travel.
2.2. Safety
It is important to ET that the system is open to all categories of passenger without discrimination. In catering for the disabled, Eurotunnel has however to consider the implications in respect of safety and standard of service.
Wherever safety cannot be guaranteed in all circumstances, ET takes the position of regretfully placing restrictions on carriage. In fact ET's Conditions of Carriage state that ET will agree to transport passengers "provided that: (i) such carriage is possible using the staff and facilities normally required for regular traffic having regard to the safety of Shuttle Operations ..." The safety of shuttle operations of course means the safety of each and every passenger and member of staff.
Eurotunnel is permitted to carry disabled passengers subject to approval by the appropriate bodies in the British and French National Governments. Such approval is based upon the relevant part of ET's published Safety Arrangements (Volume G) and also upon any other observations, tests, inspections etc. that these bodies may determine appropriate.
Since Volume G has already been approved, it remains for ET to satisfy itself as to the level of compliance with Volume G that it is able to achieve. The present report is a step towards this end.
2.3. Level of Service
In considering the comfort, convenience and amenity of disabled customers, ET is applying commercial principles in the same way as for any other category of customer. Customers who feel inadequately catered for, to the extent that their trip is unpleasant, will not wish to return. As with other kinds of customer, the secret is to anticipate their needs as far as possible, in all kinds of scenarios, as well as to listen to customers themselves.
Disabled passengers, though a minority, can nevertheless be a significant segment of the market worth pursuing in its own right. The prize would be recognition of a pre-eminent place in cross-channel travel and in particular the creation of a new class of customer who would no longer tolerate the inconveniences of ferry and air travel.
2.4. Procedures and Work Instructions
Whilst principles can be set out at an early stage, detailed instructions to staff can only be drawn up in the light of experience and a study of practical feasibility. This is especially true in the present instance, where ET is still in its early days of commercial operation.
Now that feedback and advice have been obtained from various external quarters, and passengers with the principal types of disability have been transported through the tourist shuttles, it is time for procedures to be drafted. At least, this is the case for double-deck rake operations. On the single-decker rakes, the volume of traffic has been insignificant to date, and more experience is needed.
The required procedures may be split into (i) operations on Terminals and (ii) operations on shuttles.
It is not intended that operational departments should prepare procedures on the express topic of disabled passengers, as this class of passengers is not segregated from other classes of tourist (except temporarily, when safety so demands).
Procedures for the care of the disabled will in fact be a part of procedures for general customer care, within the specialised departments - Tolls, Security, Road Traffic etc.
Procedures for evacuating the disabled will be a part of the general procedures for evacuation of shuttles. In fact, two volumes of procedures are at an advanced stage of drafting, ready to be issued within the next few weeks: "Evacuation of Tourist Shuttles", principally for the guidance of Train Crew, and "FEMC and FLOR Overall Incident Management" (provisional title) for the guidance of emergency services and first-line response units working in close liaison with ET departments.
2.5. Training
On the UK Terminal, the Customer Service Agents (Traffic) and Security Officers - more than 200 staff in total - received a half-day training course on Handling of Disabled in August and September of 1994. The feedback from staff was very enthusiastic and there is evidence that the course has succeeded in its objective - to increase knowledge and awareness amongst staff, and equip them to offer practical assistance in an effective and sensitive way. The course was run by Peter Skutts of Kent First Aid Training.
FEMC / FLOR are having a training this weekend organised by Skutts in conjunction with ET's Training Dept
Train crew are having some training next week.
A consultancy with a strong background in clinical psychology as well as training in the transport industry, DEFINE, has conducted a recent study of training requirements for Train Crew. They presented their recommendations on 7/11/94. This covered all non-technical aspects of training and gave particular insights on the kinds of further training that may be needed. Their findings were based on extensive observations and interviews with participants of some of the early evacuation tests.
One of the most significant findings in relation to the present report was the need to build up a higher confidence level in the staff in how to respond to emergencies, such as full or longitudinal evacuation of a shuttle. (give some figures here). It is at the time of writing too early to say what part of those recommendations will be adopted by Train Crew management, but the following seem likely:
that DEFINE will be retained to carry out the training
that the training will be very specific to ET's needs
attention to those with special needs, including the disabled, will be prominent
2.6. Assistance of Specialist Organisations
Eurotunnel has had the benefit for several years of working closely with a number of organisations with specialist knowledge of the disabled. Some represent the interests of their disabled members, some provide consultancy and training services, some operate on behalf of Government or other official agencies. ET has obtained valuable feedback and advice from these organisations which it has used to shape and improve its services for the disabled. This co-operation continues.
An example is the recent visit by COLITRAH (Comité de Liaison pour le Transport des Personnes Handicapées within the French Conseil National des Transports) on 10/10/94. This resulted in a report which was submitted to ET containing a number of very useful comments, some of which are being immediately acted upon.
COLITRAH also commented on the early draft of Volume G which has now been accepted by the appropriate authorities.
Another example is the consultancy DEFINE, already referred to.
Another example is the British Department of Transport Mobility Unit. Liaison meetings have been held with this group, with contributions also from organisations representing those with visual and auditory impairments.
A number of organisations and individual disabled people have been using the tourist shuttle during the Overture service. Their comments, whether of praise or criticism, have been gratefully received and used to help shape further improvements and the development of ET's policy for the disabled. This policy is dynamic, driven by ET's competitive situation and the ever-higher expectations of its customers, both disabled and able-bodied.
2.7. Practical Experience
After years of planning, ET has only been able to fine-tune its operations for the few months that it has had possession of the tunnel system and infrastructure, and above all for the even more limited time that it has had customers passing through the system.
Many disabled individuals and groups have passed through. As well as the comments which they have kindly shared with ET, they have given valuable experience to all the staff with whom they have come in contact.
This experience in turn is being used to shape the specifications for training and procedures.
Since one of the trickiest operations for the disabled passenger - hopefully the only really challenging one - is evacuation, the experience of evacuation exercises in the tunnel has been especially valuable. But it must not be forgotten that a great deal of experience can be gained by mock evacuations carried out on platforms and in maintenance workshop buildings.
All kinds of evacuation exercise must continue, to ensure that at least 80% of train crew and FLOR at any one time have adequate experience and the increased confidence that comes from practice.
Disabled people are particularly vulnerable in the evacuation situation, because (i) they may be to some extent helpless in a dangerous or potentially frightening situation and (ii) in accordance with established principle, they may in some circumstances have to be evacuated last. They are thus the most endangered if staff are not adequately trained and equipped.
3. Normal Operations
3.1. information
3.1.1. Leaflet - contents
A leaflet is currently being considered which will present to the disabled passenger all the special information he/she needs to know, and in particular any potential "hazards". With knowledge of these, the passenger will be equipped to make decisions best suiting his/her needs, for example:
on use of toilets
whether to declare himself/herself as disabled at the allocation area
whether to take advantage of the PTB amenities.
A map of each terminal showing the siting of each toilet, car parking, dropped kerbs, telephones etc. as well as the other amenities such as duty-free shops, would enhance the disabled traveller's ability to control their own trip.
3.1.2. Leaflet - distribution points
It is suggested that tolls would maintain supplies of the leaflet and give them out on request.
It will be extremely helpful if Tolls are able (and instructed via procedures) to note any indications of disabled passengers, for example specially adapted vehicles, orange disabled stickers, visibly stowed wheelchairs. This would be a trigger for them to offer the leaflet, with the words, "Would this be useful?" If the answer seems to be affirmative, then they would be able to suggest straight away that the driver go and park in the designated part of the PTB car park for use of toilet if required and also to study the implications of self-declaration as disabled at the allocation area.
It should be available at the PTB information desks.
It would be helpful if Road traffic staff would have copies of it, either to give out on request or to consult in case of need.
A possible proposal is a general purpose leaflet given out to everyone at tolls, which would include all the required information for the disabled. This could have a number of advantages, but it would need to be designed in such a way as to attract the attention of disabled persons immediately, to try and prevent them proceeding to Allocation area before they had read it.
3.1.3. Signs
A further proposal is for a large "unmissable" sign immediately after Tolls, proclaiming something like "Last Disabled Toilet before France/UK". Alternatively, the same effect could be conveyed more discreetly by a sign showing the international symbols for Disability, Information and toilets, all together, with an arrow pointing to the disabled parking at PTB.
It can be problematic that the ET system is "unforgiving" to the extent that it is not designed for the passenger to return to PTB after having gone on to Allocation or Reservoir. Also having chosen an allocation lane, it is not designed to correct any error in that choice. Action by the respective Road Traffic Managers to look for ways to facilitate "error correction" will be helpful to disabled people, who may discover too late that there is no convenient toilet for them to use before their shuttle crossing; or who may be unwarranted victims of the allocation system which discriminates against them.
3.1.4. Instructions on shuttle
3.1.4.1. Deaf
It is necessary that the dot matrix signs should be fully reliable and in the event of any important safety announcement, whether of a routine or ad-hoc nature, that these should be duplicated on the dot matrix displays. Given that there is no free-text capability on these displays, some ingenuity will be required to ensure that important ad-hoc messages are successfully transmitted to all.
In the event of these displays not functioning due to technical failure (hardware, software or input of appropriate data), there is an additional pressure on crew members to patrol the wagons to ensure that messages are being received by everyone.
Some problems of deaf people will also be experienced also by those having insufficient knowledge of the languages used for announcements, i.e. English and French.
Bearing this in mind, when very important messages are transmitted, such as the instruction to evacuate, it may be advisable that announcements over the public address system should include the request to passengers to look around them to see if everyone has understood. If not to convey the message as best they can.
3.1.4.2. Blind or partially sighted
Obviously this class of passenger will always be accompanied, since a driver of a vehicle cannot be blind or partially sighted. However, some additional assistance may be required all the same.
3.2. Identification
The specific limitations on carriage, imposed by Eurotunnel for safety and/or legal reasons, can only be enforced if the particular circumstances which are subject to constraint are correctly identified.
ET does not consider it feasible to demand that disabled passengers identify themselves, nor to conduct inspection/interrogation of passengers. Disabled persons will therefore have to declare themselves voluntarily. This self-declaration will be supported by the information supplied via leaflets or ET staff prior to arrival at tolls or thereafter.
3.2.1. At tolls
If a coach driver declares that he is carrying disabled passengers and there are more than 10 with a mobility disability, it is planned that they will be asked to go to the coach park at the PTB. They will be met by someone from Road Traffic who will determine their needs (e.g. transfer chairs in excess of those normally carried on single-deck rakes, additional members of train crew to provide assistance) and communicate these to TCC, who will in turn ensure that appropriate arrangements are made.
It would be expected that such coaches, or indeed ambulances carrying several disabled people, would have made prior arrangements via Customer Services in the first instance. Tolls would merely be giving notice of the actual arrival.
Procedures need to be agreed between Tolls and other UK Terminal departments, as well as RCC and Train Crew, covering what to do in all scenarios, for example:
arrival in accordance with prior arrangement;
ditto but some variation, e.g. more disabled passengers than arranged;
ditto but late or early;
no knowledge by TCC of previous arrangement (due to administrative error of any party concerned).
In particular, the procedures must state in what circumstances (if any) Customer Services are to be contacted in real time, i.e. whilst the intending passengers are waiting at Tolls for some response.
In other circumstances, there is at present no responsibility placed on Tolls to identify disabled persons (but see ... above). There is also at this point no signage to direct passengers into different tollbooths or lanes.
A proposal was made in an undated report by P Richards and G Collins ( Feb. 1994 or earlier) that a variety of coloured stickers be affixed to vehicles indicating various situations of disabled passengers. It is understood that this proposal has been rejected. However when passengers do happen to identify themselves at tolls, it would be desirable for certain actions by tollbooth staff to be prescribed in procedures. The following are suggestions:
offer a leaflet (see ... above) for the guidance of the disabled passenger, at the same time pointing out that it contains immediately useful information, especially about toilets and loading arrangements
be prepared to communicate any part of this information verbally to the customer.
The importance of giving the passenger accurate, approved and consistent information at locations and in all circumstances is self-evident. In the case of disabled passengers, it is doubly important. Unlike the able-bodied, they cannot easily wander round looking for a toilet, or go up to someone and ask. They cannot organise their lives on a principle of happy-go-lucky spontaneity, especially in strange surroundings. Every detail needs to be carefully planned, for efficiency, to ensure their special needs are met and to maximise their independence.
3.2.2. Allocation area
The ET system has been designed to facilitate automated allocation of vehicles, that is the lifting of barriers under computer control enabling the requisite number of vehicles to pass to the reservoir.
For this reason, the allocation area is divided into lanes: first of all there is a segregation of vehicles based on height. Up to 1.85 metres = double-deck, over 1.85 = single-deck shuttle.
The stipulation in 5.1 of Volume G, that vehicles with more than 2 disabled passengers shall be directed to single deck rakes regardless of vehicle height, is problematic to enforce. If the passenger has taken a leaflet, read and understood it prior to going to allocation, there is a remote chance that the driver will obey the leaflet and not the signage which would indicate he/she should follow the double-deck route. But the reasons for this stipulation are not stated in Volume G: a review is required.
The allocation system will give priority to any vehicles in the disabled lane, up to a limit of 3. However, after allocation has started, any remaining priority space will be used up by other vehicles. Late arriving non-disabled passengers will get on the current shuttle, but disabled ones will not. Similarly if there are more than 3 vehicles carrying self-declared disabled passengers, some will have to wait for the next shuttle, even if the present one is not full. Furthermore, since the lane is self-selecting, there is a possibility that non-disabled passengers may use up the entire disabled allocation. The kind of able-bodied driver who likes to hijack disabled parking spaces may well imagine there is some advantage in taking this lane. Furthermore, passengers with a non-mobility disability may use the disabled lane.
The situation begins to look like a lottery for the disabled passenger with a mobility disability. They are only allowed to take one of 3 slots on each shuttle, yet others are allowed to take those slots as well. By innocently following the signs, or knowledgeably considering the safety risks, they risk missing several shuttles in a row, for one reason or another.
It may be that the whole approach to the carriage of disabled drivers on double-deck rakes needs to be re-examined, and some proposals are made later in this report which may help. However, in the mean time, it is necessary to administer the agreed and approved approach as effectively as possible.
It needs to be explained frankly to everyone, disabled and otherwise, that the disabled lane exists for one purpose: to ensure that those with physical mobility disabilities are in the best possible position to be evacuated swiftly from the shuttle in case of emergency. Those with limited mobility, or sensory impairments (sight or hearing) need not take this lane. Selection of the disabled lane can in certain circumstances mean that the given vehicle will be allocated to the shuttle after the next available shuttle.
Staff are needed at the allocation barrier, to assist in a fair allocation and to give reassurance and guidance to passengers.
Considering the psychological and commercial effect of possible delays to passengers who are already victims of discrimination, it may be good practice to compensate those who miss the shuttle for this reason, with a small gift. This could be a duty-free voucher value £5/FF45. Alternatively it could be an exclusively designed small gift (lapel badge, key-ring etc.) commemorating the incident.
In any event, if a disabled passenger is held at Allocation whilst other passengers have already gone, contact with staff is essential. An able-bodied passenger would be able to go and seek help or explanation when in doubt. The unaccompanied driver with mobility problems has no such option.
A proposal by the Road Traffic Manager UK to reposition the control booths (one in front of DD barriers and one in front of SD barriers) would facilitate this human contact. If coupled with an "error correction" facility (ability to change lanes or return to PTB) this would remove much of the potential problem of disabled passengers confused through no fault of their own.
3.2.3. At reservoirs
If passengers declare themselves disabled after loading lines have been assembled, staff will not normally be expected to take any further action to ensure they go in the front lower wagon of a DD rake. However there may be some confusion occurring here, for example if passengers belatedly think they should have gone in the disabled lane.
It is proposed that the main duty of staff in this area will be to give reassurance. However, in certain circumstances action should be taken promptly to ensure the vehicle concerned is reallocated to the disabled wagon. This is where the customer requests it and a passenger has a physical mobility disability (cannot move except in a wheelchair). Of course, this reallocation will not necessarily entitle the vehicle concerned to travel on the shuttle currently preparing for loading.
3.2.4. On board the shuttle
The new version of the document "Evacuation of Tourist Shuttles" states: "During an evacuation the needs of those who are not completely able-bodied is at its most exposed."
With a little reflection it may be seen easily that in an evacuation, those with mobility difficulties are not the only category of passenger that may require special attention.
For example:
a mother with several young children
very old, slow and fragile passengers
passengers whose behaviour might be a problem (e.g. intoxicated, exceptionally nervous)
those with hearing impairment, that might not hear emergency announcements
those with visual impairment (driver would of course be sighted, but might not be able to offer full assistance through own disability or other passengers to look after)
Passengers with such special needs might be found in any part of the shuttle. It is proposed that crew members should be given the task, on each trip, of discreetly attempting to identify passengers with special needs in the course of their visits to the various wagons during the journey. They would then communicate the information to the Chef de Train who would mark the position of these passengers and a coded description on a map of the shuttle.
Such information will be useful in the event of any evacuation but also in case of incident; or indeed to prevent possible incidents by having staff in place (or focusing CCTV surveillance on the wagon(s) in question).
Giving staff such a task will assist in providing them with purposeful activity in normal operation which brings them in contact with customers. The approach would be to observe the passengers carefully but discreetly, engaging them in conversation when the opportunity arises, but never spending too long with any one vehicle.
Having thus identified those with special needs, thought needs to be given as to how this information is to be used. For example, if immobile or elderly and fragile passengers are identified as being in a certain part of the shuttle, should a corresponding number of transfer chairs be got ready nearby, as a routine task in advance of any evacuation?
Volume G (section 4.3) states that
"physically disabled passengers ... will be allocated to specific wagons in the shuttle so that - staff will know where they are located".
In fact it needs to be emphasised in training and procedures for normal operation that it is the responsibility of staff to identify the disabled passengers both in the designated wagons and anywhere else that they may be located.
The assumption cannot be made that those in the front lower wagon are disabled. Some may be. But equally there may be other passengers with disabilities anywhere in the shuttle.
3.3. Note on Single-deck rakes
At the time of writing, ET's practical experience of transporting passengers in volume on single-deck rakes has been limited, compared with its experience of transportation using double-deck rakes.
Accordingly there are a number of matters which have not been fully resolved. These affect the carriage of disabled passengers directly or indirectly.
Caravans and campers are to be carried in the rear wagons, but disabled passengers and their vehicles are to be carried in the front. Procedures will therefore need to tackle the possibility of disabled passengers in these kinds of vehicles.
There are restrictions on numbers of disabled persons travelling in one vehicle:
Volume G (Section 5.1) states that if more than 2 disabled passengers travel in a vehicle it shall go on the single-deck-deck rake even though it may be less than 1.85 metres in height. This gives a problem of identification as the signage separates low and high vehicles before any reference is made to disability. Furthermore, this restriction applies only to a physical mobility disability. It is hardly practicable for road traffic marshals to engage in a discussion about the nature of the disability with passengers in the middle of the road, as they decide which route to take. The proposal of P Richards (referred to in ... above) to put coloured stickers on the vehicles merely shifts the identification problem somewhere else, and (on closer analysis) adds additional complications.
Volume G (Section 5.2) refers to three categories of single-deck vehicles carrying disabled passengers:
those carrying 10 or less with a physical mobility disability: these are required to follow the signs carrying the appropriate pictogram, as in the illustration below: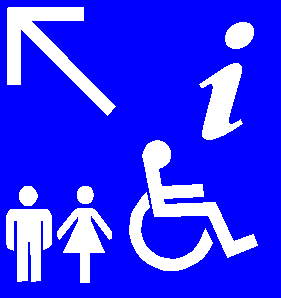 those carrying more than more than 10 such passengers, who are required to have made prior arrangements with Eurotunnel. The reasoning behind this requirement is that additional transfer chairs may have
those carrying more than 25 wheelchair users. These cannot be transported in the system as they are not accepted under French Regulations.
The procedures (and associated training) to implement these specifications have not yet been put in place. Before the procedures can be finalised, some practical matters have to be arranged, such as the positioning of a store of additional transfer chairs, so that these can be loaded on to shuttles when needed. Also:
who would put the chairs on the shuttle
what communications
how to arrange to return the additional transfer chairs to the store
how to ensure that the store contains enough transfer chairs, in serviceable condition
4. Amenities
4.1. Toilets
For disabled persons, this can be a major concern when setting out on any unfamiliar journey. Justifiably so, for there may be hazards unsuspected by able-bodied persons.
The main constraint about the ET system is that the only practical toilet facilities for those with mobility problems are situated at the PTBs.
Even these facilities are not at present ideal. In the UK PTB, an alarm button is yet to be installed.
It has been proposed that the alarm bell should sound at the Information Desk which has the advantage of being very close by. It has also been proposed that when the button is pressed it should activate a continuous flashing light just outside the toilet (deactivated only when the door is opened). This would alert the disabled person's companion if present. The person at the Information Desk would have the option of attending personally, or if busy of calling up a roving member of Road Traffic staff who could attend swiftly. In the unlikely absence of anyone at the Information Desk, the Flashing light could attract anyone nearby who would be able to communicate through the door to the person inside and summon help.
In the French PTB it is understood that there are a number of improvements which have been proposed (notably by COLITRAH) and which are under consideration for action by ET (via Pierre Prince). These include provision of a handrail. In addition there is work to be done on providing dropped kerbs making a smooth journey between the disabled car park and the toilet.
Adjacent to the UK tourist Allocation areas and reservoirs there is a block of "emergency" tourist toilets. There is a disabled toilet and the facilities appear excellent. There is a dropped kerb outside. For maximum convenience a disabled passenger would park alongside which would require him to have previously selected the nearest lane to the toilets. From any other lane it would not be possible, owing to the layout of the area and barriers, to drive alongside. The journey on foot from any other lane would involve negotiating between other parked cars and kerbs separating the lanes. However, in practice a disabled passenger would pass members of staff at several places prior to reaching the reservoir lanes and a simple request would assure a routing to the lane adjacent the toilets. The toilet block does not have the disabled pictogram on the outside.
On the more spacious French terminal there are four toilets blocks serving the reservoirs. Whilst these are generally serviceable for disabled persons, COLITRAH have made some minor comments which are in the process of being addressed.
It is an intentional feature of the ET system that the passenger arriving on the other side proceeds direct to the motorway, without any further stops. From the disabled person's point of view, this can mean an extra hazard. Having been deprived of toilets facilities during the journey, there may be an urgent need.
To this end it is essential that the ELF petrol stations on either terminal have disabled toilet facilities. This is already the case in Coquelles. On the Folkestone side urgent steps are being taken to ensure that the ELF station (which is not yet commissioned) incorporates disabled facilities of an adequate standard
The proposal for a sign indicating "last disabled toilet before France (or UK)" has already been referred to above.
4.2. Passenger Terminal Buildings
A number of comments have been made by COLITRAH, in their report already referred to, and which is presently under consideration by the relevant ET managers responsible (Keith Mackie in UK, Pierre Prince in France).
4.3. On shuttles
It has been remarked by disabled organisations (see COLITRAH report) that the alarm buttons in each shuttle may not be accessible by the people who may need them most, i.e. those with mobility problems. In view of this, staff should check, when conducting their tour of wagons, that non-ambulatory passengers are accompanied.
In the case of an unaccompanied disabled driver, they should ensure that at least there are other able-bodied passengers in the same wagon who appear competent to assist or call the alarm in case of any emergency. In addition, the staff member should make contact with the person concerned to make sure that there are no problems and to offer some support as may be needed. For example, the passenger may not understand an announcement, may suddenly need the toilet, may want to know some information about unloading or whether there is a disabled toilet at the destination before the motorway..
4.4. General amenities
COLITRAH said they got in touch with Eurotunnel 21/1/92. We turn this to advantage. We have been in consultation with them since that date and have taken into account their recommendations.
COLITRAH also took part in the evacuation exercise of 23/9/94.
5. Emergencies and Shuttle Evacuation
As already stated in this document (2.4 above) procedures are being drafted, for publication before the end of 1994. The present report therefore does not attempt a comprehensive review of the evacuation process as it affects disabled people, but offers a few comments and suggestions which may be of use.
5.1. Transfer chairs and breathing protection devices
There are a number of issues connected with the use of these items which may require to be clarified within both training and procedures:
where they are kept on DD and SD shuttles
under exactly what circumstances they should be used
circumstances in which they should not be used
should they be dispersed - in different places on the shuttle - or centralised
where the spare ones are stored near or on platforms
ensuring that both crew members and FLOR are fully proficient in locating, opening, folding and deploying them with and without passengers
maintenance and inventory control (replacement of chairs which have gone missing, or breathing protection devices which have been used).
5.2. Sick persons in ambulances
Volume G (Section 8) states that "The services responsible for ambulance transportation are deemed to know the situations which may arise in the event of evacuation of the wagon or shuttle ..."
There would however appear to be a duty on ET to inform the ambulance services in advance of the basic arrangements in case of evacuation. In particular, the ambulance driver should be fully aware of the necessity to keep the space behind the ambulance clear for the unloading of stretcher cases etc. Train crew must of course be trained and instructed via procedures to leave this clearance when loading vehicles; but the ambulance driver will be an expert in knowing the particular constraints imposed by his type of vehicle and its occupants. It is envisaged that the driver, in effect, would co-operate actively with train crew in all aspects of loading, unloading and possible evacuation.
5.3. Evacuation of non-ambulatory
The new version of the Train Crew document "Evacuation of Tourist Shuttles" stresses the need to reassure passengers who cannot walk out of the evacuation zone with the other passengers:
"The non-ambulatory must be carefully briefed to explain that they will be looked after at the end of the evacuation by the First Line of Response"
Behind this statement lies an uncomfortable situation, which is spelt out in Volume G (Section 7.2, last paragraph): those who cannot walk out of the danger zone must be left behind, waiting for the First Line of Response personnel to arrive. It describes an extreme case where a person with disabilities preventing their being moved is abandoned in a wagon on fire. It states bluntly that the halon injection system can be turned on whilst they are still there, though ET staff will bring them "a small respiratory protection". It suggests that such persons "must accept travelling on the system knowing the difficulties that may arise in the event of evacuation and that fact that they may have to stay in a wagon after Halon injection in extreme cases of fire development".
In practice, it is doubtful whether anyone would be willing to explain this to intending passengers. Where the nature of the disability precludes their being moved out of their vehicle, one option would be for ET to withhold the offer of transportation, in accordance with the Conditions of Carriage quoted above. But the best thing may be to hold frank discussions with organisations representing the disabled, both to determine a humane policy and find an acceptable way of presenting it.
As a minimum, the following proposal is suggested:
A completely helpless person should not be left on their own when the able-bodied have fled for their own safety. It should be part of crew procedures to ensure that when an evacuation takes place an able-bodied volunteer should stay with the immobile passenger until assistance arrives. This will provide reassurance, in place of almost certain panic, to the disabled person. Anything less will haunt the conscience of the able-bodied participants.
If the suggestions above, under "Identification of Special Needs", have been adopted, the crew will be more prepared for the kind of action which is most appropriate.

----------------------------------------------------------------------